Ethereum (ETH) Reflects Heavy Plunge Since the Last Week
Ethereum is a high potential coin. In the past, the traders have earned a considerable return. The same has managed to keep the coin among the top players in the crypto market. However, the recent trend is quite disappointing and has taken over ETH coin too. The coin price is spotted falling, but somehow it tries to maintain the momentum.
Ethereum Price Analysis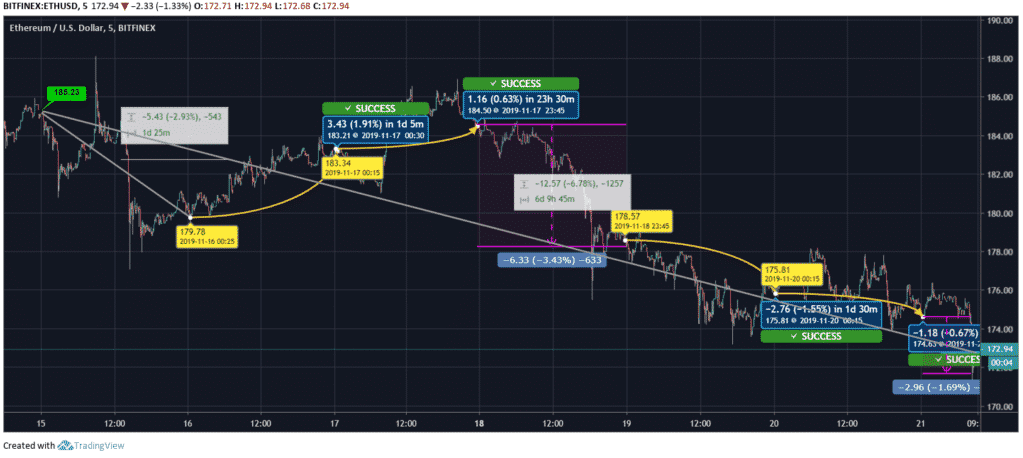 The week started at $185. The ETH price closed the day at $179 by 2.93%. On November 16, the price escalated to $183. The progression was 1.91%. the trend remained locked on the next day and took the price of Ethereum to $184 by 0.63%. There was a heavy fall on November 18 that took the price to $178 by 3.43%. On the next day, the coin slips to $175 by 1.55%. The fall remained intact in yesterday's price movement. The price touched $174 by 0.67%. Today, the price dropped to $171 by 1.69%.
Ethereum price is currently dealing at $172. The coin has violated the immediate support level and heading towards the next support level. It wouldn't be a surprise if ETH coin breached the major support level at $170 and trades below it. The coin is recommended for long-term investment. The same would give huge returns to the investors.
| | |
| --- | --- |
| Resistance Level | Price |
| R1 | $178.03 |
| R2 | $180.36 |
| R3 | $181.73 |
| Support Level | Price |
| S1 | $174.33 |
| S2 | $172.96 |
| S3 | $170.63 |