Ethereum (ETH) Consolidates Around $120 Amidst Volatility
Ethereum (ETH) price has been undergoing a lot of price variations since the start of the year due to continual volatile movements. Even the past week's ETH price chart indicates a lot of fluctuations in the lower range, though the currency has been putting up a good fight. March 15 was showing the price varying from $120.29 – $133.21.
Ethereum Price Analysis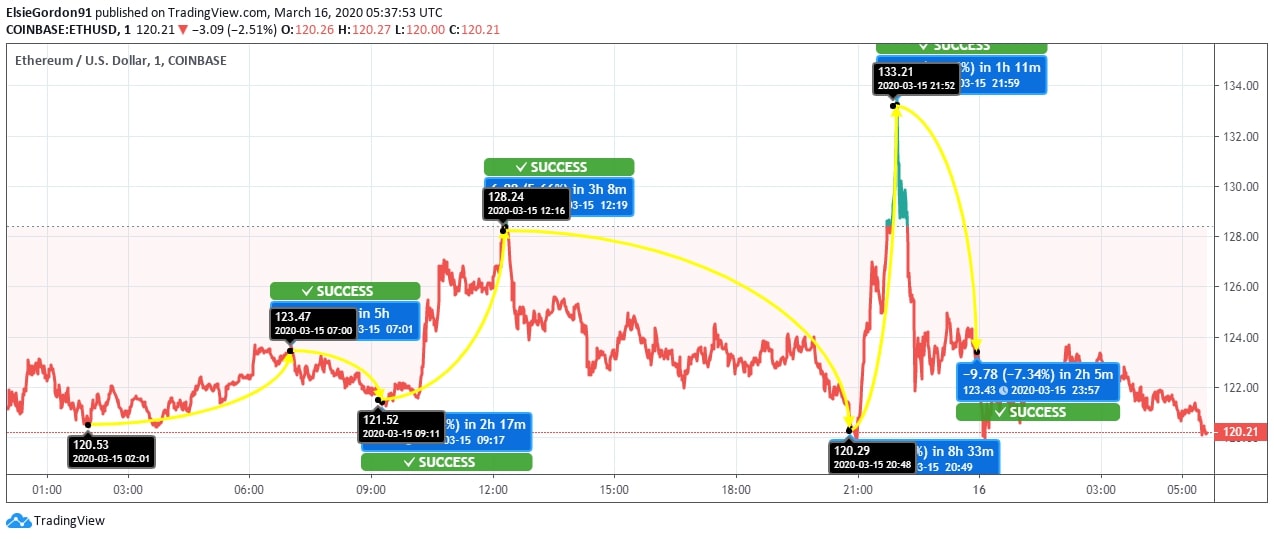 ETH coin seems to be moving as per the ongoing bearish volatility in the crypto market since the past 24 hours. The price of Ethereum was below the baseline at $120.53 at 2:01 UTC. The currency managed recovery and touched $123.47 at 7:00 UTC showing an upward momentum of 2.44%. However, at 9:11 UTC, the price of the coin dropped to $121.52. This did not deter the price taking an upward rally to $128.24 at 12:19 UTC, the rise being to the extent of 5.66%.
With the mounting bear pressure, the price of Ethereum again went down to $120.29 at 20:49 UTC by 6.14%. After this fall, it jumped to a high of 10.78% and touched $133.21 at 21:59 UTC, but from this high, ETH price again fell and continue to trade $123 level. Today with the bear pressure continuing, the price of the coin has again gone down to $120.21, showing a fall of 2.61%.
ETH has always been a coin with great potential, and the short-term bearish hiccups should not come in its way for the long-term. Analysts expect the currency to go in for a stable upward momentum when the crypto market is expected to stabilize over the course of the year.