Ethereum (ETH) Registers Hefty Fall in the Month-long Movement
Ethereum is counted among the top cryptocurrencies in the market. In the past, ETH coin was spotted, giving great results. The currency started falling from the third quarter and is still spotted under heavy pressure. The improvement in the coin is speculated to take place in some time.
In the last 30 days, the ETH coin is trying to maintain itself at a higher level. Well, the effort went in vain as the price has moved from $158 to $155 in the 30 days period. At the same time, Ethereum price was spotted touching a high at $195.94 and a low at $155.
Ethereum Price Analysis: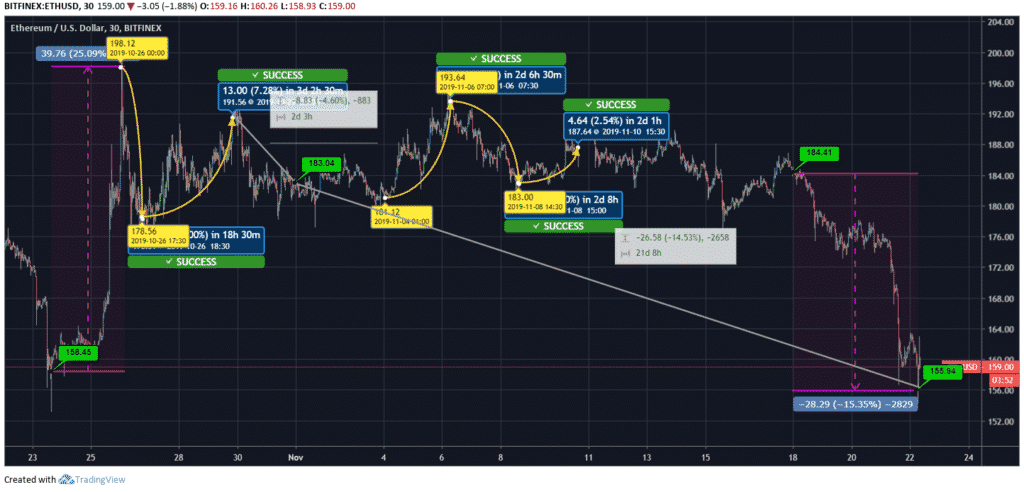 ETH coin started dealing at $158.45 on October 23, 2019. The price escalated to $198.12 by 25.09%. The price slipped to $178.56 by 16%.
Later, Ethereum escalated the price to $191.56 by 7.28%. The last few days of the month took the price to $183.04 by 4.60%.
November started at $183. The price escalated in the later days to $193.64 from $181.12 by 5.24%. The ETH coin couldn't hold itself at $193 and dropped to $183 by a 3% fall.
Further, there was a slight uptrend in the coin that brought the price of Ethereum up to $187.64 by 2.54%.
Thereafter, the price started dropping. The tremendous fall in the price has brought ETH coin to $155.94 from $184.41. The regression marked in Ethereum is of 15.35%.
During the ongoing month, the price has marked 14.53% loss as the opening price on November 01 was $183.04 and now it is at $159.
Ethereum is slowly sliding towards the immediate support level at $155. The current price of the coin is $159.
In the coming hours, the currency seems to drop below the next support level at $148. The intraday traders might be experiencing a profitable day.
| | |
| --- | --- |
| Resistance Level | Price |
| R1 | $171.99 |
| R2 | $ 182.52 |
| R3 | $ 188.83 |
| Support Level | Price |
| S1 | $ 155.15 |
| S2 | $148.84 |
| S3 | $138.31 |
Ethereum is usually suggested for long-term traders. But the current price movement is not likely to be the best time for investment. Hence, we would recommend the traders to stay put for some time.