Ethereum (ETH) Aims for the Significant Resistance Around $130
The crypto market started with a regressive price movement. Well, the trend was soon transformed into an upward and the same marked substantial improvement in the market. Almost all the coins in the market are booking profit. A few days back, the Ethereum price was spotted at $95, which also became the 52-week low price. However, within a week, the coin is now at $125.
Ethereum Price Analysis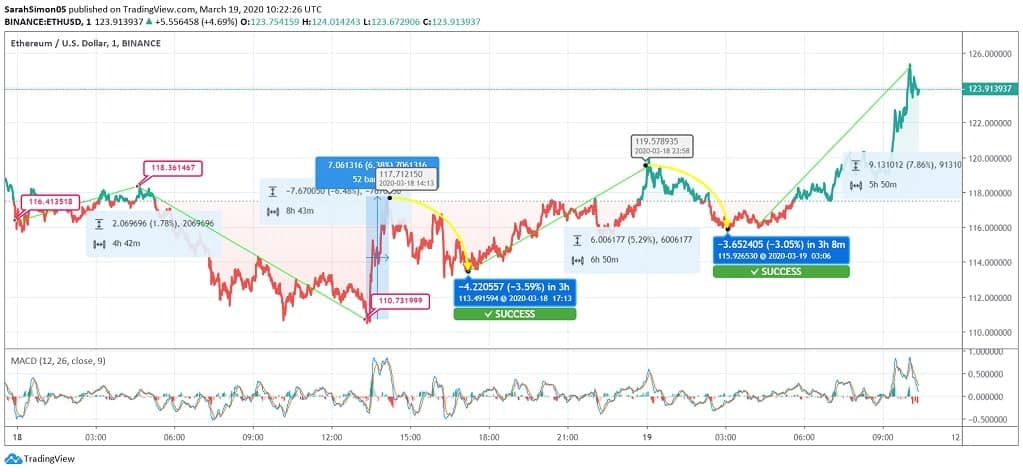 ETH price was at $116 during the opening hour of yesterday. In the next 4 hours, the price escalated to $118 by a moderated hike of 1.78%, but soon, the pullback pressure brought the price to $110 at 13:13 UTC. After this correction, Ethereum price recovered the fall by escalating to $117 at 14:13 UTC, and then again, it was brought down to $113 by 3.59% fall. Thereafter, the currency started improving, and by closing, the price counter stroked at $119.
Today, Ethereum started the day with a plunge. The price counters moved from $119 to $115 by a 3.05% drop. Later, ETH coin started improving, and in the next 5 hours, the price reached $125. MACD indicator reflects a bearish crossover. Ethereum price has violated all its previous resistance levels at $116, $118 and $120. As per the current trend, it may trade moderately before making any steep movement.