VeChain (VET) Price Prediction: Trends are Bearish; The Crypto is Aiming at Various New Market for Extending its Presence
VeChain Foundation recently took part in OceanEx Germany Cryptocurrency Meetup. It was held successfully at FSBC and was attended by more than 200 crypto professionals and enthusiasts. The dignitaries shared information regarding the most hard-core blockchain technologies.
Current Statistics of VeChain
On July 29, at UTC 12:08, VeChain (VET) vs USD was trading around $0.00558779.
Against Bitcoin, the crypto was valued around 0.00000059 BTC per chip.
At present, the market rank of VeChain (VET) is 32nd in the cryptocurrency chart.
Additionally, the market capitalisation of the cryptocurrency was around 310,639,512 USD.
At the same time, the 24-hour trading volume in the altcoin was 27,024,334 USD.
With an ROI of -62.76%, the number of VeChain chips circulating in the market, at the above mentioned time, was 55,454,734,800 VET.
VET/USD Price Analysis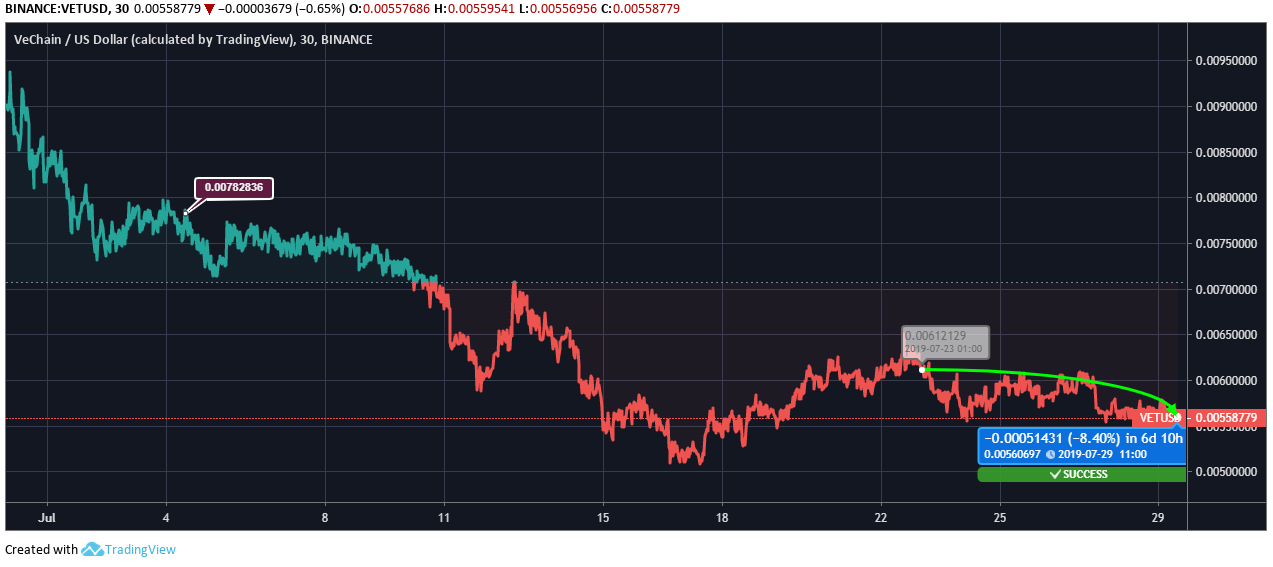 On July 04, VeChain (VET) was trading around 0.00782836 USD. However, today after 25-days, the cryptocurrency is trading with a decline of 28.62%. Similarly, in the weekly trading, the altcoin has gone down by 8.40%, from the level of 0.00612129 USD on July 21. Nevertheless, the crypto has shown a stable movement in yesterday's trading. After opening at 0.005669 USD, it closed at 0.005661 USD, with a marginal decline of 0.15%.
Amidst the bearish market, VeChain (VET) has shown some stability. And expected to move toward the upper side of the chart. As per our prediction, VeChain (VET) might trade around 0.01 USD by the end of the year. The immediate resistance for the coin is at 0.0057634 USD and the support level is at 0.0055164 USD.
Germany is a big market for crypto with a lot of potentials. Earlier IOTA chain tried to penetrate the German market through collaborating with various automobile companies. And the partnership helped the crypto in strengthening its grip on the market. VeChain seems to be following a similar strategy. The foundation is expecting a similar result like IOTA chain. As per our analysis, it will most probably make some market movement in the favour of VeChain (VET).